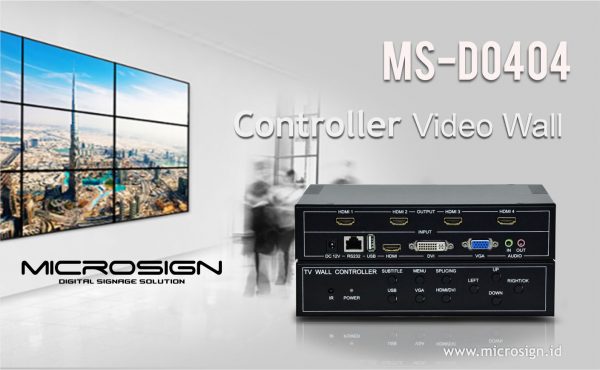 CONTROLLER VIDEOWALL
Matrik controller 2×2
input DVI,HDMI,VGA,USB
output 4xHDMI
1×4 atau 2×2
LED indicator
Metal Case
Download PDF
Specification
Description
Topology
Spesification
Input Signal
HDMI input
: HDMI 1.4 (HDCP1.3), built-in audio, support 480I to 1080P resolution video
DVI input
: DVI-I interface, bind 3.5mm audio interface, max support 1920*1080/60Hz
VGA input
: HD15 interface, bind 3.5mm audio interface, support 640*480/85Hz to 1920*1200/60Hz resolution
USB
: Standard USB2.0 interface, support video, picture, MP3, TXT format play
Output Signal
HDMI output
: 4 channels HDMI output, max support 1920*1080P/60Hz resolution
Audio output
: 3.5mm audio interface, synchronize switching with video
Other
Controller
: Remote, Button, RS232
Power
: DC12V
Power Consumption 
: 20W
Dimension
: 210m*160mm*45mm
Weight
: 1.2Kg
Description
ISEEVY 4 channels video wall controller 2×2 is a professional video wall processor to distribute video signal to multiple TV monitors for splicing display. It supports HDMI DVI VGA USB inputs, you can switch to select display one of them at will. With 4 HDMI outputs, it can support max 4 TVs splicing display.The input and output video resolution max support 1920*1080@60Hz, and the audio signal also will synchronize with output video. You can control it easily via buttons, remote controller, or RS232 control software.

Features

Each port support both HDMI and DVI inputs.
seamless switching ensures no switching delay and pictures loss during transitions .
Create a 2×2 video wall multi-view and border edge setting function
support high definition resolutions up to Full HD 1080p
Enable control by Swith panel button , IR Remote Control , RS232 Control ,IP Control (LAN) to select the source and mode suport saving and reading modes .
1U rack design , easy installment, LED indicator , Metal Case
MATRIX HDMI = Any one of the 4 sources to any one of the 4 displays.
Any one of the four outputs can be turned off independently.
Enable set all the outputs to display with the same input with one button.
with Lock button for lock and unlock the function of all the keys.
Splicing Mode Displays