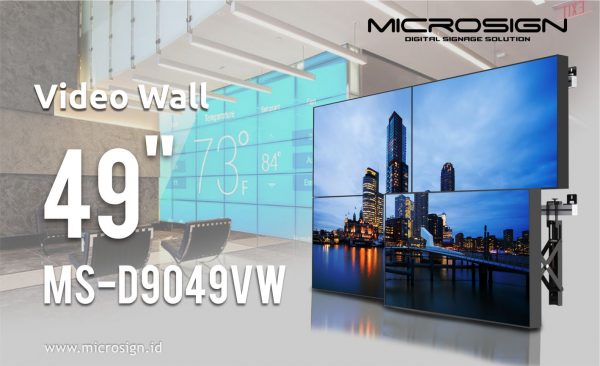 VIDEO WALL
49 Inch
1080p
800cd/m2
bezelwidth: 3.5 mm
Input: VGA/DVI/BNC/HDMI/Ypbp
Output: VGA/DVI/2*BNC
Download PDF
Specification
Description
Topology
Spesification
2×3 / 3×3 Video Wall Controller (optional)
LCD
Model
: MS – D9049VW
Panel Size
: 49 Inch LCD Screen (super narrow bezel 3.5 mm with LED Backlight)
Refresh Rate
: 60Hz
Aspect Ratio
: 16:9
Max Resolution Support
: Full HD 1920 x 1080
Panel Display Area
:

1073.8 × 604.00 mm

( W x H )
Resolution support
: 4K / 3840 * 2160 at the hightest
Viewing Angle
: 178

°

/ 178

°

Color
: 8Bit, 16.7 M
Brightness (nits)
: 500 cd / m2
Power
Maximum Power Consumption 
: 230 W
Power Consumption
: 90 W
Led Power
: 82.1 W (Typ.)
Input Voltage
: AC 110 – 240 V
Life (hrs)
: > 60,000 (hrs)
Interface
Input Port
: 3 x BNC, 1 x VGA, 1 x DVI, 1 x HDMI, 1 x RJ45 640 * 480, 800
VGA / DVI Resolution Support
: 640*480, 800*600, 1024*768, 1280*1024, 1600*1200, 1920*1080
HDMI Resolution Support
: 480I, 480P, 576I, 720P, 1080I, 1080P
Surface
: Antiglare (Haze 44%), Hard coating (3H)
Signal Type
: LVDS (2 ch, 8) , Connector 51 pins
Physical Parameter
Machine Frame (± 1mm)
: 1021.98 mm * 576.58 mm ( W x H )
Gap
: 3.5 mm gap, 1.75 mm narrow bezel
Panel Weight
: 14.2 kg
Basic Function
One Signal
: Full screen display and divided screen display
More than One Signal
: If need matrix, need extra cost
Accessories
Standard Accessories
: LCD Monitor contains splicer, wall mount bracket, HDMI cable, RJ45 cables, software and Manual
Description
Flexible Program Schedule Free schedule and district display of multiple materials. Multiple play modes with customization support.
Exquisite Image Industrial A+ interface, auto-coloring and image-enhancing engine.
Multiple Security Safeguards 3-level check of materials, programs, and schedules to prevent mistake release. Screensaver password to protect displaying. Encryption of data storage and transmission to avoid data tampering. With no default password, users can activate and set initial password to guarantee the password safety.
Centralized Management Remotely control and manage one or more screens, such as timed startup/shutdown, quick startup/shutdown, brightness/volume timed adjustment, and screenshot preview. Remote program release and local (USB) program update.
Variable Materials Static and dynamic materials, including pictures, audio, video, scrolling subtitle, PDF, webpage, live video, number calling, pop-up pictures, etc.
Metallic Appearance Light weight body with integrative design. The front high-transmittance tempered glass provides reliable protection.
Organization Permission 5-level organization available for managing materials, programs, terminals, and users. Create custom user with precise permission assignment. Multiple permission templates available.
Applications Places
Airport
Local Information – tourist activities, local weather condition, list featured local event and interest map
Commercial Industry
Used in the display terminal of commercial industry, such as advertising, media, product presentations
Financial Industry
Used in the information display terminal of financial industry, such as stock and security market
Management and Control System
Used in the display terminal of management and control system such as fire-fighting, meteorology, maritime, food prevention, transportation hub
others
Safety Monitoring System of Mining and Energy Indunstry
Education and Conference System