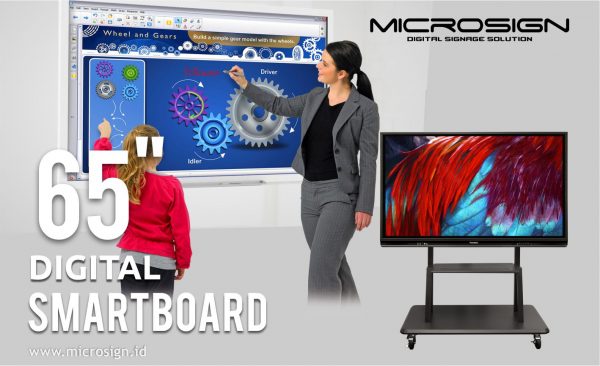 Digital Smart Board
Type : Interactive Whiteboard, Electronic Whiteboard, Standard Whiteboard, TFT, Infrared, Capacitive, LCD Touch Screen
Processor All-winner, A20(1.0G, dual core)
RAM 4Gb DDR3 / A20 / A83
Memory Build-in Flash memory 8Gb
Multiple Storage Support USB 2.0/ SD/ MMC card
Download PDF
Specification
OS Android
: Android 4.2.0, Quad core CPU, 1 Gb RAM, 4/8 Gb ROM
OPS PC(Optional)
: i3/i5/i7, 500Gb/ 1 T
CPU
: All-winner, A20(1.0G, dual core)
Memory
: 4/8 GB DD3 / A20 / A83
Hard Drive
: 500GB SATA Hard Drive
Multiple Storage
: Support USB 2.0/ SD/ MMC card
Resolution
: FHD 1920×1080, (Support UHD 3840×2160 with independent Graphic Card)
Brightness
: 350 cd/m2
Product Size
: 1550 x 973.8 x 74.5 mm
Weight
: 65 KG
Display Size
: 1428 x 803 mm
Power Consumption
: <= 260 W
Voltage
: 100V – 240V, 50-60Hz
Viewing Angle
: 178 Degrees
Speakers
: 15Wx2
Glass
: 4MM Tempered Glass
Technology
: Infrared
Touch Point
: 10 Point
Response Time
: ≤ 20m-sec
Touch Accuracy
: ±2mm for 90% area
Min Touch Diameter
: 5mm
Interpolation
: 32767 x 32767
Interface 
: HDMI, VGA, USB, Audio, AV, TV etc
Contrast Ratio 
: 1000:1 – 5000:1
Working Life
: 50000 h – 60000 h
Appearance 
: Classic type, Stent shapes, Chassis, Other Customized
OS Lenguage
: English (Default, multi lenguage supported)
I/O 
: USB 2.0 x 2, RJ-45 x 1 TF card plug x 1, AV x 1, HDMI x 1, DC x 1
Features
Ultra-narrow Frame
1080P High Resolution LED TV
Dropdown OPS
With 18 Hotkeys on Both Sides
Front Design Speaker
Front Design Interfaces
True Multi Touch
Whiteboard software included with different writing & drawing tools

Description

Professionally designed 30-90 angle, great elevation, adjustable, specific base, allowing users to adjust the most suitable angle. Resistive, capacitive, infrared, optical, acoustic wave touch screen, accurate positioning.
Operated by finger, soft touch pen. The 6 point touch system utilizes an included touch pen or the tip of your finger and provides a new dimension in interactive control by detecting multiple touch points quickly.
The Digital HDTV Interactive white board allows for the ease and functionality of a touchscreen to be broadcasted onto a screen with enough size to replace projection systems.
With substantial size and capabilities, the Whiteboards will allow an entire conference room or auditorium to see everything clearly.
Touch-free drift, auto- correction, can be precise operation.
This allows for multiple presenters or students to write directly on the display at the same time.
| | |
| --- | --- |
| | |